Regular price

Rs. 1,699.00

Regular price

Rs. 2,499.00

Sale price

Rs. 1,699.00

Unit price

per

Sale

Sold out

🚚 Free Delivery (Order Over Rs. 599.00)
🎁 Additional 5% Off (Order Over Rs. 1000.00)
🎁 Additional 10% Off (Order Over Rs. 2500.00)

EVERYTHING YOU NEED FOR GROWING VEGETABLE AT HOME
Vegetable is a kitchen garden staple that everyone should try growing at home. Here's all you need to start growing vegetable at home.
This kit includes:
Veggie Potting Soil Mix - 5 Kg
Decomposed Cocopeat - 1 Kg 
Green Grow HDPE Bags - 4 Pcs
Vegetable Fertilizer - 900 gm
Mini Gardening Tools - Set of 3
Vegetable Seeds - Pack of 4
Seaweed Liquid - (100 ml
Elevate your home gardening game with our comprehensive Vegetable Grow Kit (Combo Pack - 7 in 1). Whether you're a seasoned green thumb or just starting your gardening journey, this kit has everything you need to cultivate fresh, delicious vegetables right in the comfort of your home.
Veggie Potting Soil Mix (5 Kg): Our nutrient-rich potting soil mix is specially formulated to provide the perfect environment for your vegetables to thrive. It's the foundation of your garden's success.

Decomposed Cocopeat (1 Kg): Cocopeat is a natural, eco-friendly soil conditioner that retains moisture, promotes aeration, and aids in root development. It's the secret to healthy, robust plants.

Green Grow HDPE Bags (4 Pcs): These durable, reusable grow bags are designed for optimal drainage and air circulation, ensuring your vegetables receive the ideal growing conditions.

Vegetable Fertilizer (900 gm): Nourish your plants with our specially formulated fertilizer, enriched with essential nutrients to support growth, flowering, and fruiting. Your veggies will thank you with bountiful harvests.

Mini Gardening Tools (Set of 3): Our compact, ergonomic gardening tools are perfect for tending to your vegetable garden. They make planting, weeding, and pruning a breeze, even in small spaces.

Vegetable Seeds (Pack of 4): Grow a variety of your favorite vegetables with our carefully selected seed pack. From crunchy cucumbers to juicy tomatoes, you'll have a diverse range to choose from.

Seaweed Liquid (100 ml): Boost your plants' immunity and overall health with our organic seaweed liquid. It's a natural wonder that promotes vigorous growth and increased resistance to pests and diseases.
Quality Assured

Our products undergo rigorous quality checks to ensure you receive only the best. Customer satisfaction is our top priority.
Fast & Safe Shipping

Enjoy swift and secure delivery of your orders. We prioritize efficiency and take utmost care in shipping your products.
Easy Returns

If you're not satisfied with your purchase, we offer hassle-free returns. We value your convenience and want you to be happy with your experience.
Secure Payment

Your financial security is paramount to us. We provide a secure payment gateway to protect your sensitive information. Shop with confidence.
Share
View full details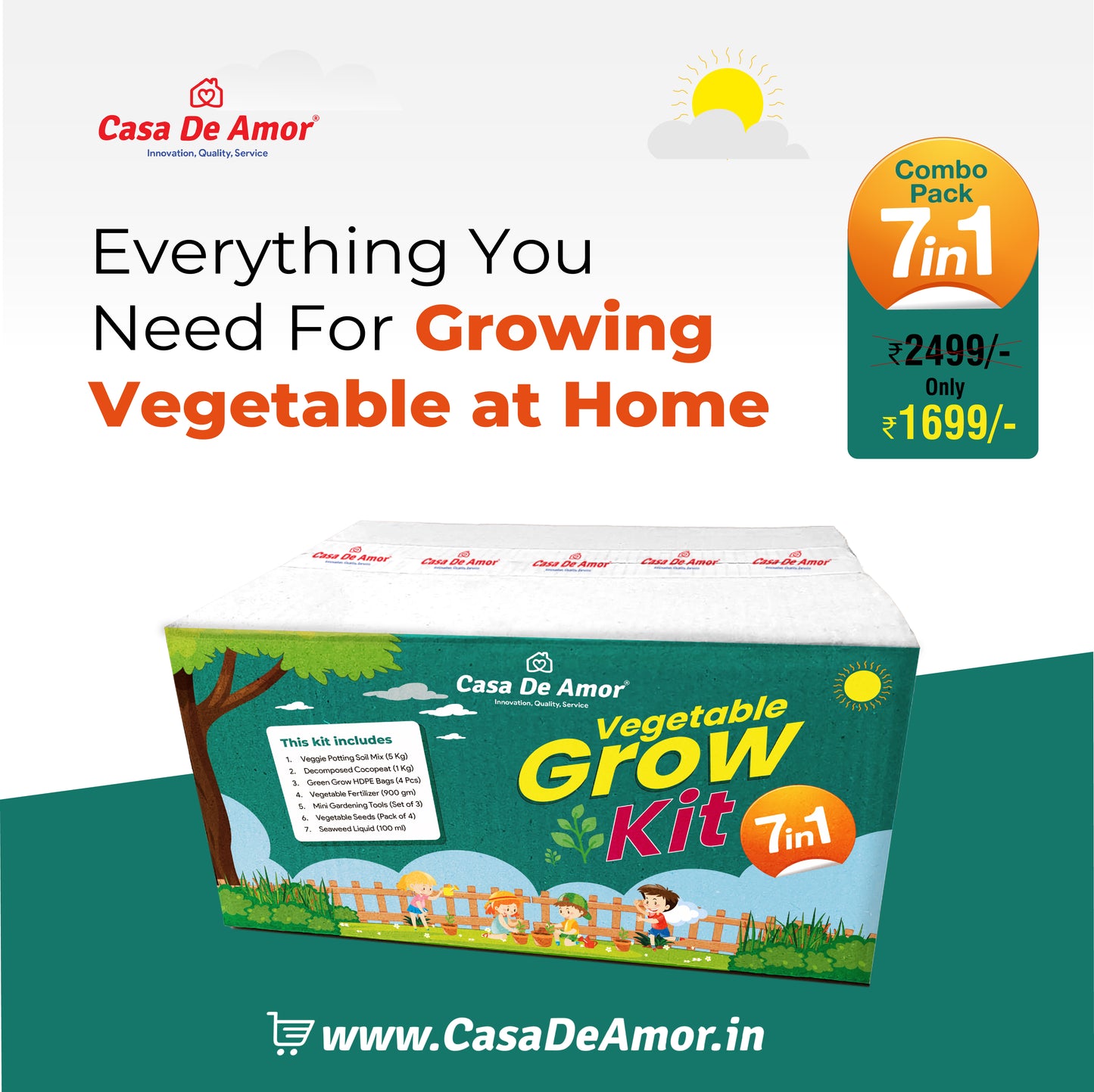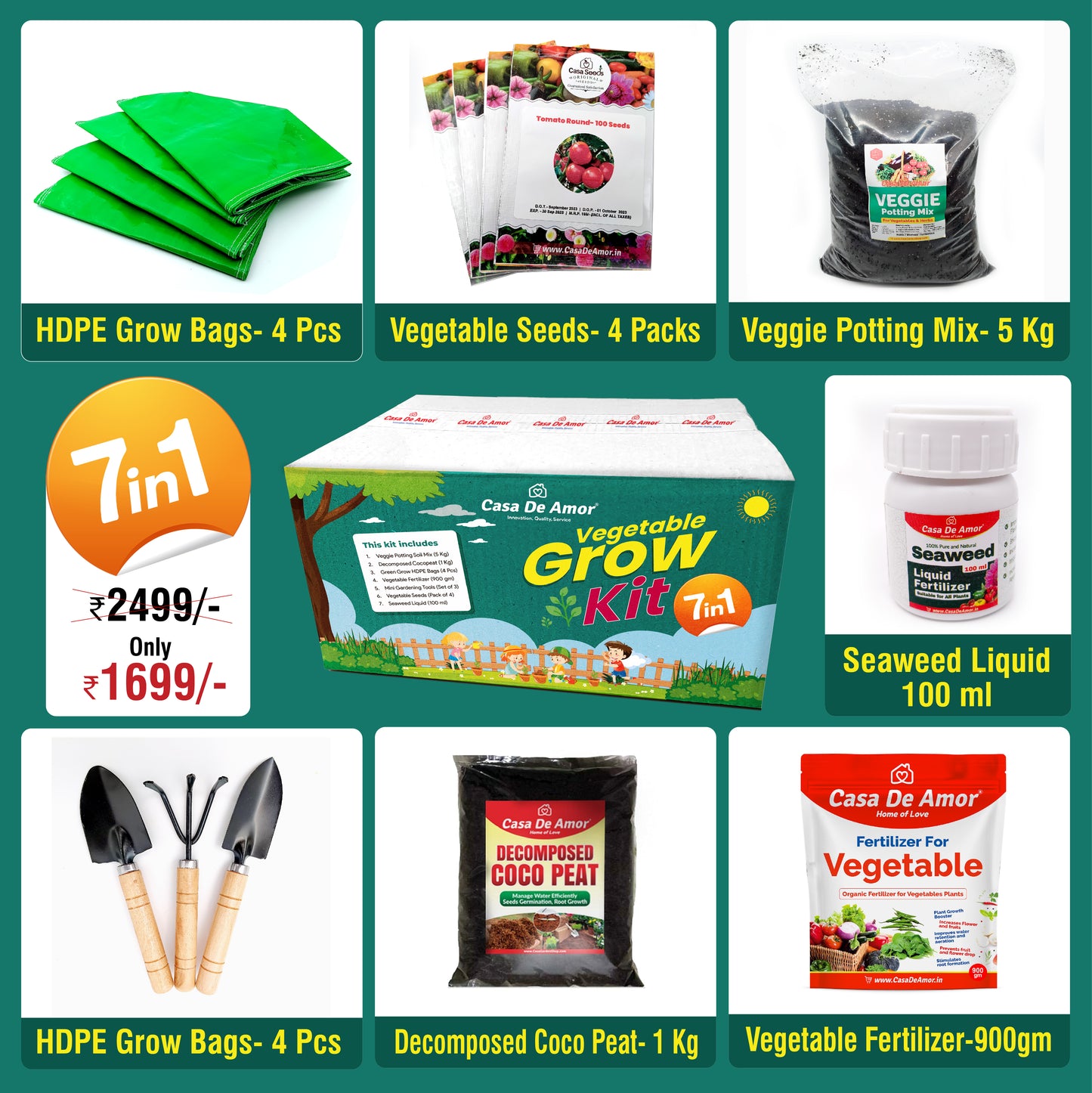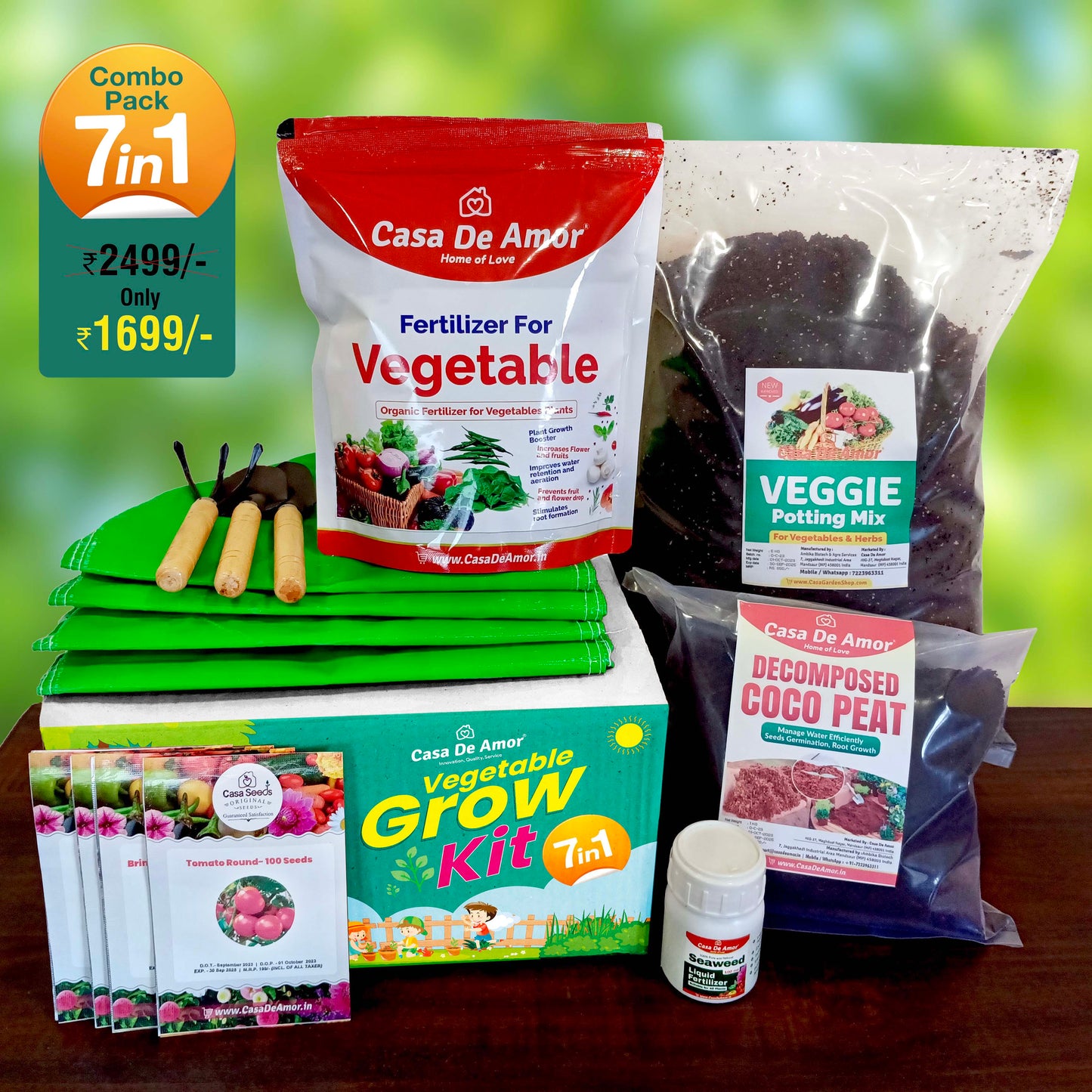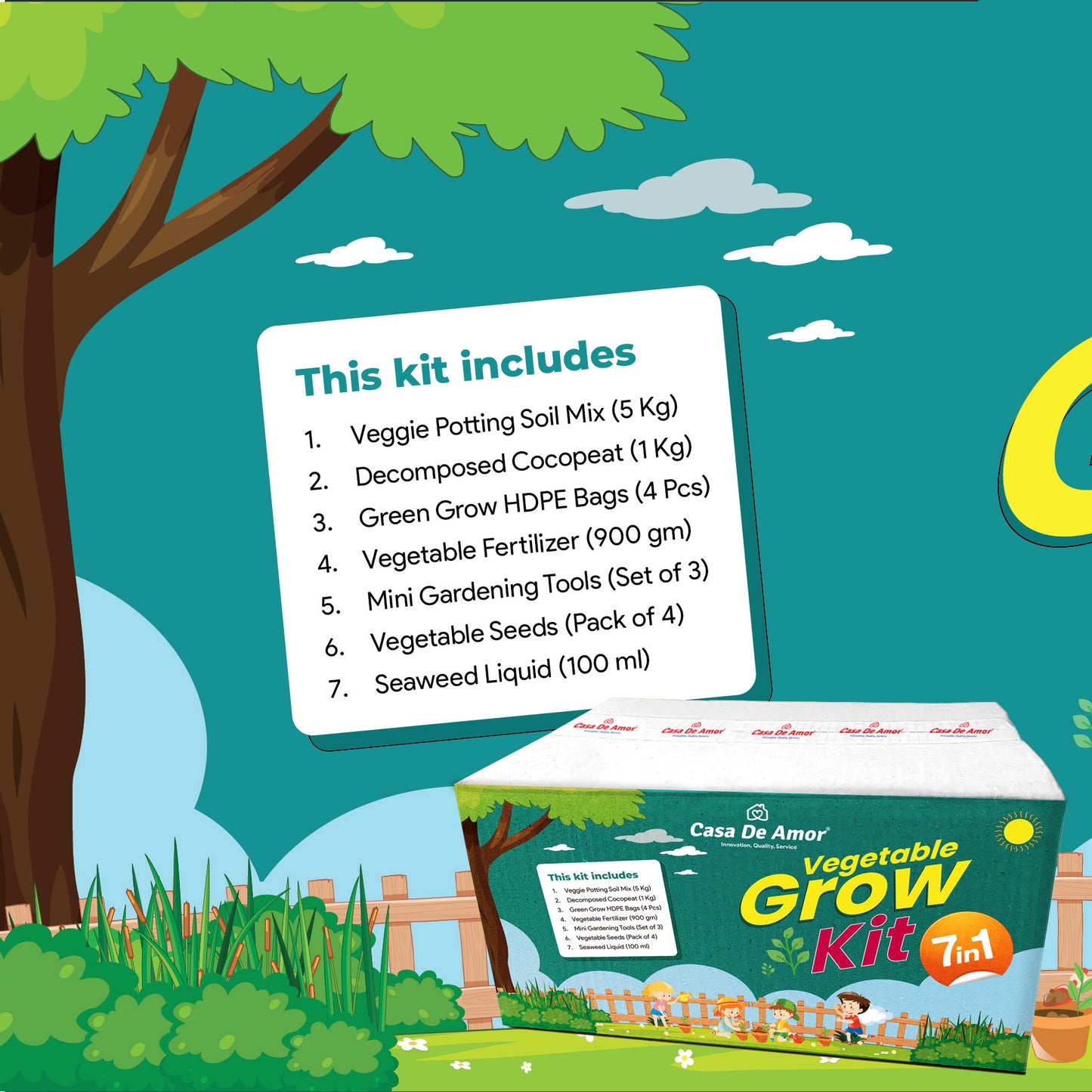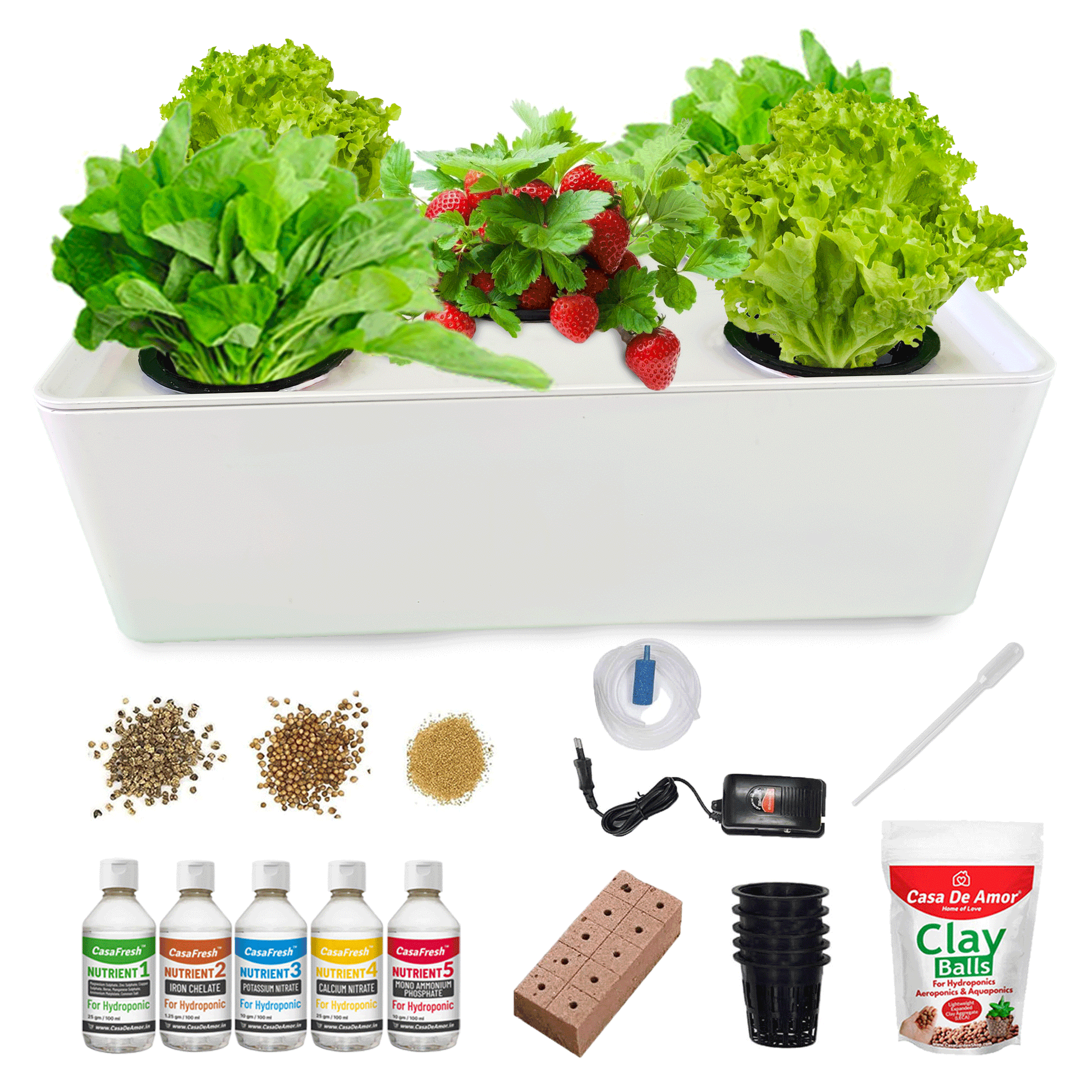 Looking for an easy way to start growing plants indoors?
Check out our hydroponics growing kit, designed for beginners and experienced gardeners alike. With everything you need to get started, including a nutrient solution, grow lights and a selection of seeds, you'll be growing healthy and vibrant plants in no time. Our hydroponics system is easy to use, low maintenance and produces high yields. Shop now and start growing your own fresh herbs, vegetables, and flowers today!
Regular price
Rs. 1,199.00
Regular price
Rs. 1,599.00
Sale price
Rs. 1,199.00
Unit price
per
Sale
Sold out
View full details