Regular price

Rs. 350.00

Sale price

Rs. 255.00

Unit price

per

Sale

Sold out

🚚 Free Delivery (Order Over Rs. 599.00)
🎁 Additional 5% Off (Order Over Rs. 1000.00)
🎁 Additional 10% Off (Order Over Rs. 2500.00)

Advanced Nanotechnology: Our Indoor Plant Tonic Nano Nitro Booster utilizes cutting-edge nanotechnology to deliver nutrient-rich particles directly to the cellular level of your plants, maximizing absorption and effectiveness.
Promotes Lush Growth: Enriched with a balanced blend of essential nutrients, our Nano Nitro Booster stimulates rapid and healthy growth, resulting in lush foliage, stronger stems, and vibrant colors.
Robust Root Development: The powerful formula of our tonic supports vigorous root development, enhancing nutrient uptake and water absorption for optimal plant health and resilience.
Abundant Blooms: Experience an explosion of blooms as our Nano Nitro Booster provides the necessary nutrients for abundant flower production, ensuring stunning displays and prolonged flowering periods.
Easy Application: With its convenient liquid form, our Indoor Plant Tonic Nano Nitro Booster is easy to use. Simply mix the recommended dose with water and apply to your indoor plants, providing them with an instant nutrient boost.
Suitable for All Indoor Plants: Whether you have foliage plants, flowering plants, herbs, or succulents, our Nano Nitro Booster is suitable for all indoor plant varieties, ensuring healthy growth across your entire collection.
Long-Lasting Results: Regular use of our Nano Nitro Booster promotes sustained plant health, resilience, and beauty, making it an essential part of your indoor plant care routine.
Quality Assurance: Our Indoor Plant Tonic Nano Nitro Booster is formulated using premium ingredients and undergoes rigorous quality control measures to ensure optimal performance and customer satisfaction.
Elevate the well-being of your indoor plants and unlock their true potential with our Indoor Plant Tonic Nano Nitro Booster. Experience the joy of thriving, vibrant plants that become the centerpiece of your indoor space. Order now and transform your indoor gardening journey!
Elevate the health and vitality of your indoor plants with our Indoor Plant Tonic Nano Nitro Booster. Specially formulated with advanced nanotechnology, this premium nutrient supplement provides your plants with a powerful boost for exceptional growth and vibrancy. Packed with essential nutrients and trace elements, it revitalizes your indoor plants, ensuring lush foliage, robust root development, and abundant blooms. Give your plants the nourishment they deserve and create a stunning indoor oasis with our Nano Nitro Booster!
Quality Assured

Our products undergo rigorous quality checks to ensure you receive only the best. Customer satisfaction is our top priority.
Fast & Safe Shipping

Enjoy swift and secure delivery of your orders. We prioritize efficiency and take utmost care in shipping your products.
Easy Returns

If you're not satisfied with your purchase, we offer hassle-free returns. We value your convenience and want you to be happy with your experience.
Secure Payment

Your financial security is paramount to us. We provide a secure payment gateway to protect your sensitive information. Shop with confidence.
Share
View full details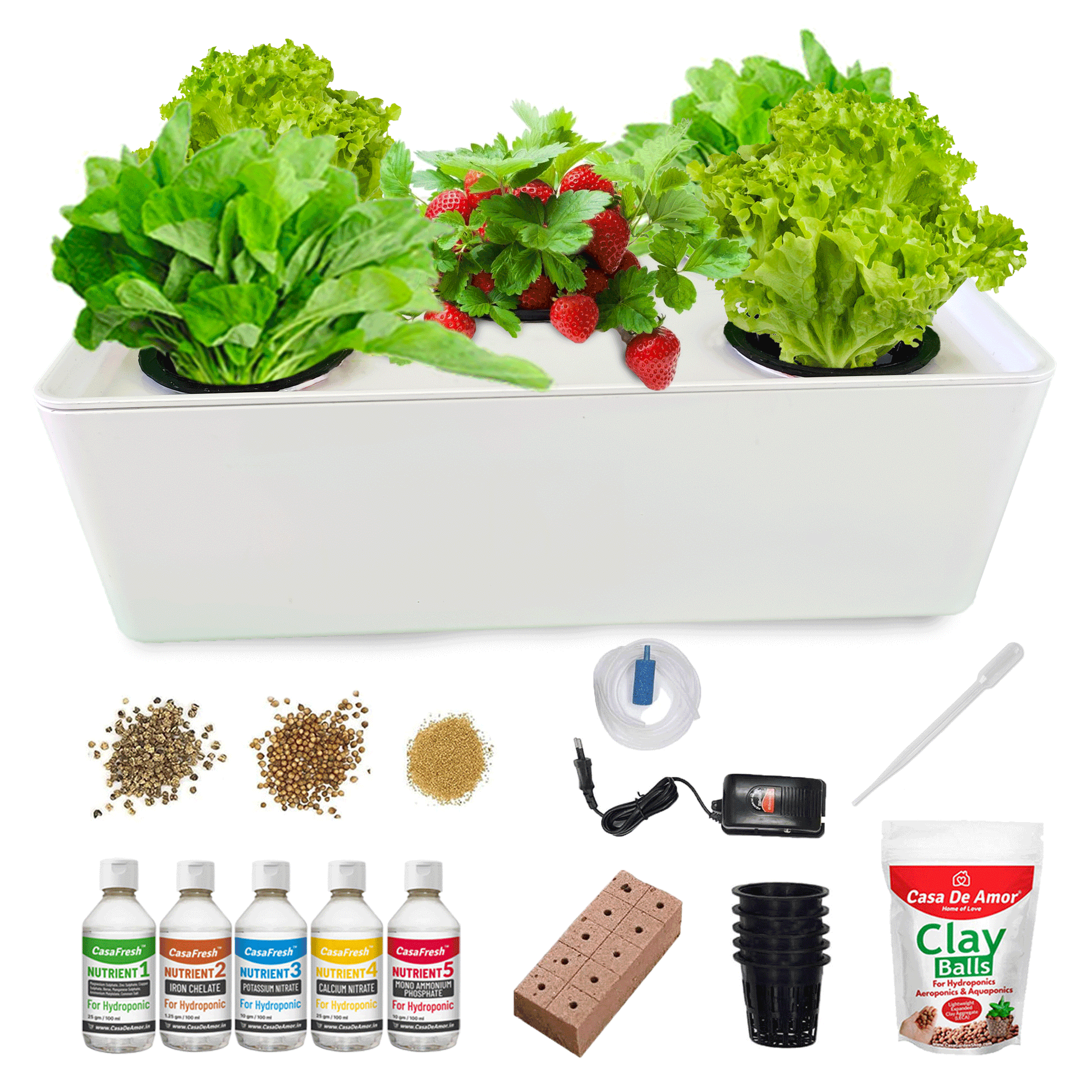 Looking for an easy way to start growing plants indoors?
Check out our hydroponics growing kit, designed for beginners and experienced gardeners alike. With everything you need to get started, including a nutrient solution, grow lights and a selection of seeds, you'll be growing healthy and vibrant plants in no time. Our hydroponics system is easy to use, low maintenance and produces high yields. Shop now and start growing your own fresh herbs, vegetables, and flowers today!
Regular price
Rs. 1,199.00
Regular price
Rs. 1,599.00
Sale price
Rs. 1,199.00
Unit price
per
Sale
Sold out
View full details