Regular price

Rs. 799.00

Sale price

Rs. 499.00

Unit price

per

Sale

Sold out

🚚 Free Delivery (Order Over Rs. 599.00)
🎁 Additional 5% Off (Order Over Rs. 1000.00)
🎁 Additional 10% Off (Order Over Rs. 2500.00)


Casa De Amor Flower Booster Special Essential Fertilizer for Flower Plants - 900 gm
All Essential Multi Micronutrients for All Flowering Plants.

100% Organic Fertilizer.

It has the ability to increase flower production.

It imparts original color and aroma to the flowers.

Instantly feeds for beautiful results.

Dose: Add 20-30gm of Flower Booster in your pot & mix it well in the top 1-2inch of soil. Irrigate immediately. Repeat it every week. Use it amply, as there is no adverse effect of over-dose, 100%organic.
Casa De Amor Growth Booster Liquid Bio-Fertilizer for All Plants 500 ml, Perfect to Use On Indoor/Outdoor Plants
Promotes balanced growth of plants and increases bloom set and size of flowers & fruits.

It improves aeration in the root zone. Recommended using for all crops, fruits, vegetables, flowers, lawns, Terrance garden, balcony garden, pots, poly grow bags.

Increases the bloom set, flower size & fruit size. Increases the resistance of the plants and seed germination. Increases drought and frost resistance qualities.

Fruits and vegetables have a greater nutritional value and increase their shelf life. It can be used in two ways (a)aerial spray, which improves vegetative growth and improves the quality of flowers, fruits (b) soil drenching, which improves soil structure & texture and improves aeration in the root zone.

So far the carbon is considered and added as a micronutrient. But this is the only and much-needed one for plants and crops, With our unique formula each of the elements present in our fertilizer plays a pivotal role in targeting roots, foliage, flowers, and fruits/vegetable generically and doesn't limit itself to a particular plant or tree

How to Use
To make 1 Liter of Casa De Amor Growth Booster Liquid Spray for plants.
DIRECT TO USE:
Container Contains Concentrated Growth Booster. It needs to be filled with water before applying it to plants.
Add 7ml of liquid seaweed Concentrate with 1 liter of water.
Mix them thoroughly.
Spray the Growth Booster mixer all over the plant leaves until the spray
TIME OF APPLICATION
Liquid Growth Booster to be applied before 7-10 days during the following stages to increase yield and good quality produce.
NOTE: Apply the Growth Booster liquid spray on the plants before sunrise or after sunset. To avoid leaf burn.
Quality Assured

Our products undergo rigorous quality checks to ensure you receive only the best. Customer satisfaction is our top priority.
Fast & Safe Shipping

Enjoy swift and secure delivery of your orders. We prioritize efficiency and take utmost care in shipping your products.
Easy Returns

If you're not satisfied with your purchase, we offer hassle-free returns. We value your convenience and want you to be happy with your experience.
Secure Payment

Your financial security is paramount to us. We provide a secure payment gateway to protect your sensitive information. Shop with confidence.
Share
View full details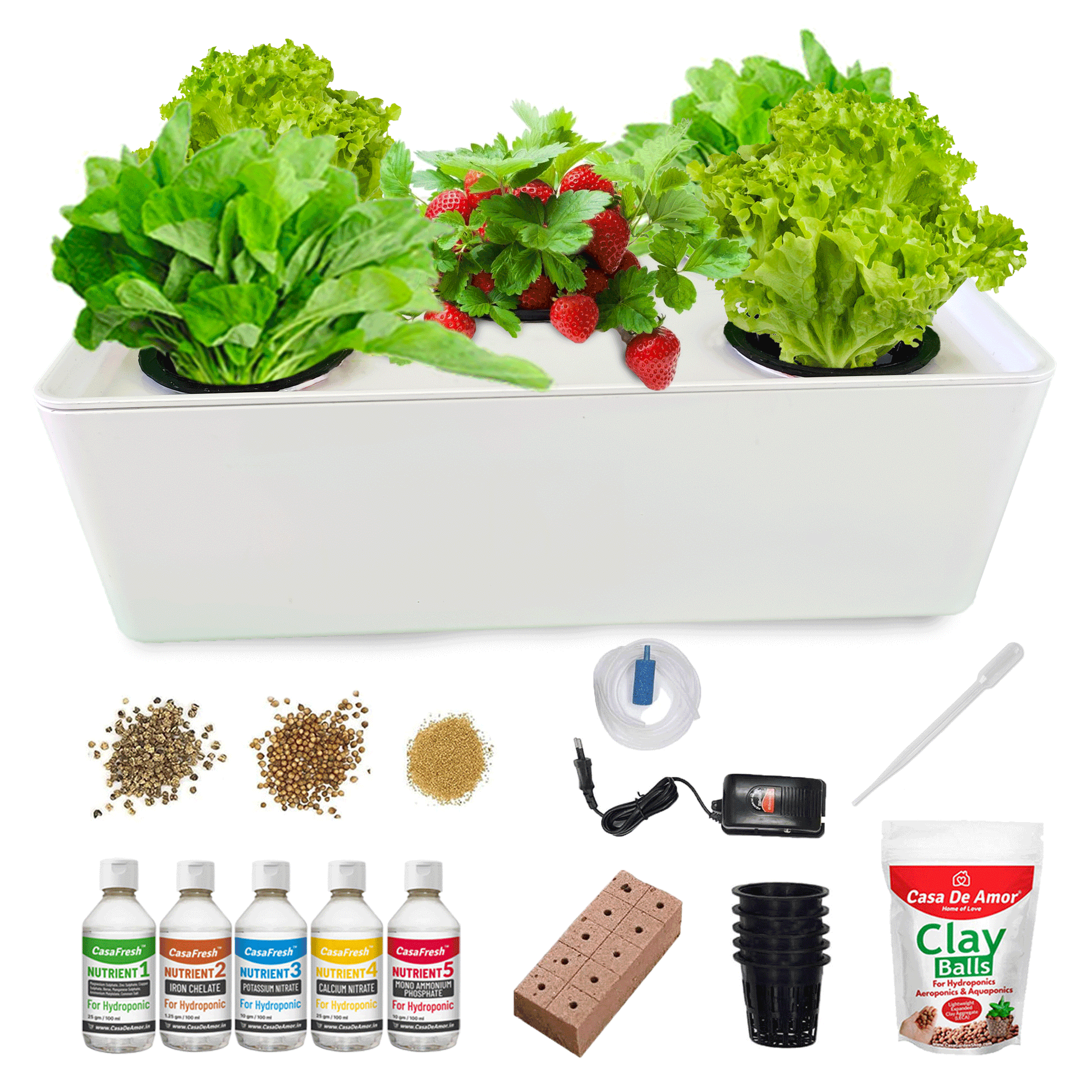 Looking for an easy way to start growing plants indoors?
Check out our hydroponics growing kit, designed for beginners and experienced gardeners alike. With everything you need to get started, including a nutrient solution, grow lights and a selection of seeds, you'll be growing healthy and vibrant plants in no time. Our hydroponics system is easy to use, low maintenance and produces high yields. Shop now and start growing your own fresh herbs, vegetables, and flowers today!
Regular price
Rs. 1,199.00
Regular price
Rs. 1,599.00
Sale price
Rs. 1,199.00
Unit price
per
Sale
Sold out
View full details